The Third Avenue Chula Vista Village Association
The mission of the Third Avenue Village Association is to create, promote and champion a vibrant, pedestrian-friendly destination, leading to increased sales, property values and community pride.
Third Avenue Village Association 2018 Board of Directors
The Third Avenue Village Association Board of Directors is comprised of business and property owners with a vested interest in the vitality of Third Avenue.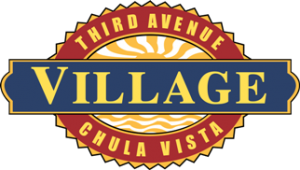 Board of Directors
President – Kathy Sparks (Mangia Italiano)
Vice President – Karen Riggott (El Primero Hotel)
Treasurer & Secretary– Ian Trotter (Chula Vista Photo)
Randy Bellamy (Village Cremations)
Eric Crockett (City of Chula Vista)
Rosa Lopez (EazyToyz)
Kendall Manion (Third Avenue Alehouse)
Christianne Penunuri (Groundswell Brewing Co.)
Joe Anthony Raso (La Bella Pizza)
Tony Raso (Bar Sin Nombre)
Helmer Rodriquez (County of San Diego)
The Economic Development Committee meets the second Tuesday of the month at 8:00 a.m. at the TAVA office. The committee's purpose is to:
Monitor the economic condition of Third Avenue Village
Strengthen existing businesses and recruit new ones
Identify new economic uses of existing buildings
Identify and develop financial incentives and capital for building rehabilitation, improvements and development
The Promotional Committee meets the third Tuesday of the month at 8:30 a.m. at the TAVA office. The committee's purpose is to:
Understand the changing market for both potential shoppers and competition
Identify Third Avenue Village assets including people, buildings, heritage and institutions to use as marketing tools
Create new image campaigns, retail promotions and special events to bring people to the Village
Define the Village's niche and develop a brand for the area.
The Executive Committee is comprised of the Executive Officers of the Board of Directors and meets the fourth Tuesday of the month at 9:00 a.m. at the TAVA office.
TAVA Staff Members
Luanne Hulsizer – Executive Director Director@thirdavenuevillage.com     619.422.1982
Kelly Lannom – Event Manager Events@thirdavenuevillage.com     619.422.1982
Beatriz Merced – Administrative Assistant Info@thirdavenuevillage.com  619.422.1982
DIRECTORY