Eucalyptus Park is located at:
436 C St, Chula Vista, CA 91910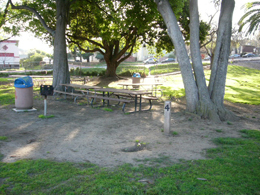 Eucalyptus Park offers 20.9 ares of open space and includes recreation spaces for Baseball, Basketball Court, Tennis Courts. Eucalyptus Park offers citizens of Chula Vista helpful family gathering features like Barbecue Grill, Open Green Space to play, Picnic Area, Play Ground Equipment, Restrooms as well as Shelters and Gazebos.
If you are throwing a party, Eucalyptus Park allows Air Jumps, Pony Rides and Other Vendor Services with a permit. See the city site for vendor permits and reservations
Area & Features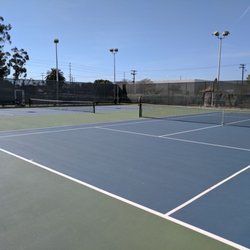 20.9 Acres
Ballfield(s)
Barbecue Grill(s)
Basketball Court(s)
Open Green Space
Picnic Area(s)
Play Equipment
Air Jumps, Pony Rides and Other Vendor Services allowed
Restroom(s)
Shelter(s)/Gazebo(s)
Tennis Court(s)
Eucalyptus Park also has an upper field level commonly referred to as Menzel Field. The features in this are as follows:
Ballfield(s)
Lights
Restroom(s)
Snack Bar
Permit Required for Air Jumps, Pony Rides and Other Vendor Services
For an air jump, pony rides or other vendor services at this park, you must obtain a permit. If you have more than 25 people (26+), a $200 cleaning/damage deposit is required (deposit all or partially refundable). See map for location (AJ-6).
Alcohol Permit
Alcohol is not allowed without a permit at Eucalyptus Park. Your Park Reservation will serve as your permit. If you do not already have a reservation, an Alcohol Permit is required.
Rental Pricing (click photo to enlarge)
Rental
Tables
BBQs
Residents
Non-Residents
Capacity

E-1
4
1
$210 Rental
$100 Deposit

$420 Rental
$100 Deposit

200
in the area


E-2
(E-2 & E-3 share
air jump space)

2
1
$60 Rental
$25 Deposit

$120 Rental
$25 Deposit

50
in the area


E-3
(E-2 & E-3 share
air jump space)

2
1
$60 Rental
$25 Deposit

$120 Rental
$25 Deposit

50
in the area


E-P4
(Picnic Area –
no shelter)

3
1
$60 Rental
$25 Deposit
$120 Rental
$25 Deposit

50
in the area


E-P5
(Picnic Area –
no shelter)

3
1
$60 Rental
$25 Deposit
$120 Rental
$25 Deposit
50
in the area
Permit Pricing
Area
Resident

Non-Resident


AJ-6
(Air Jump Only)

$30 Permit Fee
– With no gazebo or picnic area rental –
$200 Deposit (for 26+ people)

$60 Permit Fee
– With no gazebo or picnic area rental –
$200 Deposit (for 26+ people)

Eucalyptus Park
Updated on 08/06/2015 6:58 AM
Photos of Eucalyptus Park, located at the intersection of Fourth Avenue & C Street