The Chula Vista Marina – San Diego's South Bay California
550 Marina Parkway
Chula Vista, CA 91910
Phone: (619) 691-1860
Fax: (619) 420-9667
Fax: 619-420-9667
Latitude: 32.62479
Longitude: -117.10092
Web: http://www.cvmarina.com
Office Hours: 8:30 am – 5:00 pm, seven days a week. boatslips@cvmarina.com

Chula Vista Marina is in a farther proximity to the ocean as well, about 10 miles away, which may also be a factor as to why it can be more difficult to find patrons to rent the slips. Another issue may be the proximity of the dock to the nearest fuel station. "Nearest fuel dock is 7 miles up the way," Sullivan said, "but fuel is expensive."
Chula Vista Marina has also had its fair share of problems with derelict boats, so Sullivan began a boat concierge service to help long-distance visitors upkeep their boats while they were away from the marina.
In a lot of ways, Chula Vista Marina runs more like a yacht club than some of the other marinas in San Diego, but without the exclusivity.
At Chula Vista Marina liveaboards are popular and there is a revolving crowd of people since the RV resort is also a part of the marina for now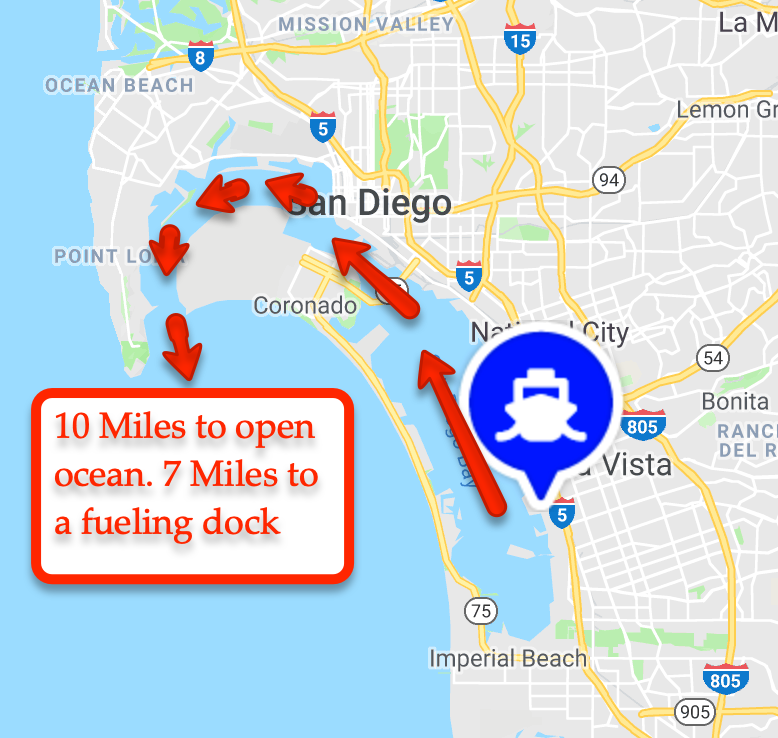 In a lot of ways, Chula Vista Marina runs more like a yacht club than some of the other marinas in San Diego, but without the exclusivity.
Chula Vista Marina is located in San Diego's South Bay. The Chula Vista Marina is less crowded and provides boaters a peaceful, quite atmosphere away from downtown. The Chula Vista Marina boasts tall swaying palm trees and a pristine park-like setting. The Chula Vista Yacht Harbor presents a tropical paradise with uncrowded waters, no boat surge and spectacular sunsets.
The Marina has over 552 boat slips with modern concrete docks and private dock boxes. The Marina facilities can accommodate a variety of vessels large and small. Our first class marina and resort facilities feature a vacation atmosphere, relaxed environment, and offers our visitors and regulars a wonderful change of pace and setting.
552 Boat Slips-click for view
Modern Concrete Docks - Private Dock Boxes
Water and Metered Electric at Each Slip
Phone & Cable TV/Internet Available Free
Marina Pump Out Service
Security Gates - Computerized Key Access 2
4 Hour In-house Security
Free Parking - Vehicle ID stickers issued
Easy Freeway Access - 30 Minutes From All San Diego Attractions
Local Shuttle Bus and Trolley Transportation for Easy Shopping
Large, Clean Restrooms - Showers and Lockers
Multiple Laundry Facilities
Heated Swimming Pool and Spa
Private Picnic Grounds, Horseshoe Pits, Play and Rest Areas
Beautiful Public Parks and Paved Walkways By the Bay
Public Boat Launch and Fishing Pier
10 Miles to the open ocean
7 miles to the nearest fuel dock