A protest calling for police reform and racial justice began peacefully in La Mesa Saturday, but as night fell it had escalated into riots with the city center resembling a combat zone.
The action mimics several others around the nation as outrage continues to swell over the Memorial Day in-custody death of George Floyd in Minnesota.
Hundreds of people refused to disperse from the downtown area after midnight Sunday, and groups repeatedly clashed with law enforcement officers in riot gear as less-lethal rounds punctuated the air.
The city manager enacted a curfew starting at 1:30 a.m. Sunday until 7 a.m. Mayor Mark Arapostathis said the city had reached out the the state for aid.
"Please stay sheltered at home and please stay safe," he said in a message on social media as councilmembers stood behind him.
Businesses big and small were smashed, looted and charred, while Chase bank and neighboring Union Bank burned to the ground.
Details on injuries and arrests were not available. One young man apparently struck in the head by a police projectile was taken to a hospital late in the night.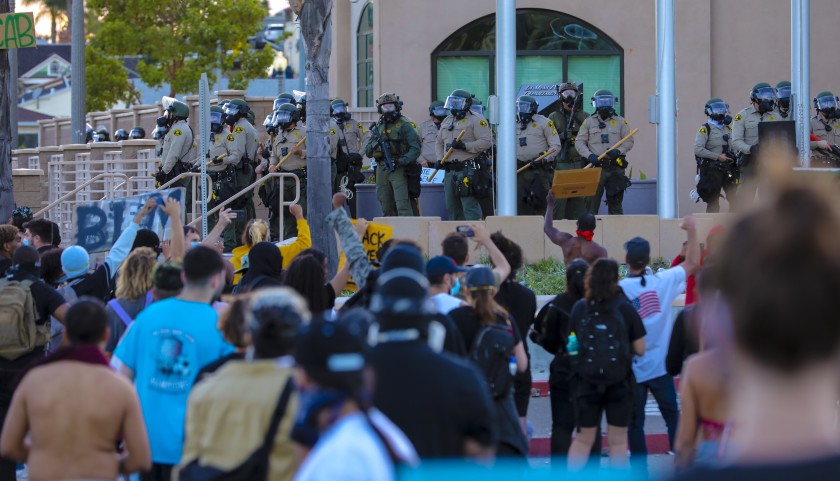 Rioters breached several businesses in a nearby Vons shopping center and set a Vons box truck ablaze. Later, smoke filled the inside of the store while people carried out everything from pool toys to diapers to flowers to liquor.
Stolen bouquets were placed beneath a makeshift memorial with the words "RIP Floyd" spray painted on the wall above.
Looters emerged from neighboring Play it Again Sports with surfboards, bicycles and fishing poles. The store's owner, Dan Buxton, and an employee tried to stop the destruction, attempting to grab back sporting equipment from looters.
Nearby, people smashed an ATM outside the California Coast Credit Union while others milled about inside.
Kneeling on the curb amid the unrest was the Rev. Travis Ferguson from Christ Lutheran across the street, who said he was praying for the protesters, police and looters.
The looters carried on unhindered until about 10:30 p.m. when law enforcement suddenly advanced on the shopping center, quickly clearing out the area.
Some rioters moved on to a Chase bank in downtown La Mesa, setting the building ablaze. The fire burned unchecked inside, no firefighters in sight. Moments later, Union Bank next door was engulfed, as well.